Tower Semiconductor Ltd. (NASDAQ: TSEM, TASE: TSEM), and its fully owned U.S. subsidiary Jazz Semiconductor, Inc. operate collectively under the brand name TowerJazz, the global specialty foundry leader. In addition, TowerJazz operates three fabrication facilities in Japan through TowerJazz Panasonic Semiconductor Co. (TPSCo).
TowerJazz manufactures analog integrated circuits with geometries ranging from 1.0 to 0.13-micron, offering a broad range of customizable process technologies for more than 300 customers worldwide in various growing markets including RF, high-performance analog, power, imaging, consumer, automotive, medical, and industrial as well as aerospace and defense.
Technology and Design Enablement
TowerJazz offers a broad range of advanced and customizable analog process technologies including: SiGe, BiCMOS, mixed-signal/CMOS, RF CMOS, CMOS image sensor, integrated power management (BCD and 700V), and MEMS. TowerJazz also provides a world-class design enablement platform for a quick and accurate design cycle as well as Transfer Optimization and development Process Services (TOPS) to IDMs and fabless companies that need to expand capacity.
For on-shore aerospace and defense customers in the U.S., TowerJazz provides foundry services in its Newport Beach, California facility, offering a wide range of technologies for applications including Large Die, ROICs, MEMS, and millimeter wave, among others.
Facilities
To provide multi-fab sourcing and extended capacity for its customers, TowerJazz operates two manufacturing facilities in Israel (150mm and 200mm), two in the U.S. (200mm) and three additional facilities in Japan (two 200mm and one 300mm) through TowerJazz Panasonic Semiconductor Co. (TPSCo), established with Panasonic Corporation of which TowerJazz has the majority holding.
History Overview
Tower Semiconductor was founded in 1993 with the acquisition of National Semiconductor's 150mm wafer fabrication facility (Fab 1) in Migdal Haemek, Israel and the company became public in 1994. In 2001, an adjacent, state-of-the-art 200mm facility (Fab 2) was constructed, designed to operate in geometries of 0.18-micron and below, using advanced specialized CMOS technology.
Jazz Semiconductor was formed in 2002 as a spin-off of Conexant Systems, a fabless semiconductor company that spun-off from Rockwell Semiconductor in 1999. Jazz inherited its Newport Beach, California 200mm fabrication facility (Fab 3). Tower and Jazz merged in September 2008 in a stock-for-stock transaction and re-branded as TowerJazz. The merger increased the company's range of specialty technology offerings and created a broad customer base.
In April 2014, a joint venture was formed with Panasonic Corporation to enable TowerJazz customers access to two additional 200mm facilities and one 300mm facility in Japan, adding available capacity of 800, 000 wafers per year.
In January 2016, TowerJazz acquired Maxim Integrated's 8-inch wafer fabrication facility in San Antonio, Texas, United States, cost-effectively increasing production by approximately 28, 000 wafers per month in order to support its strong customer demand and to enable additional manufacturing flexibility.
more details
Source: towerjazz.com
RELATED VIDEO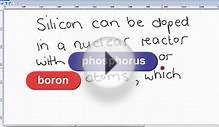 How does a transistor work? p2 Semiconductors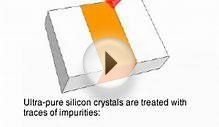 How Transistors Work - megathermodynamicful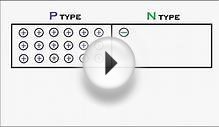 Animation | How a P N junction semiconductor works ...
Share this Post