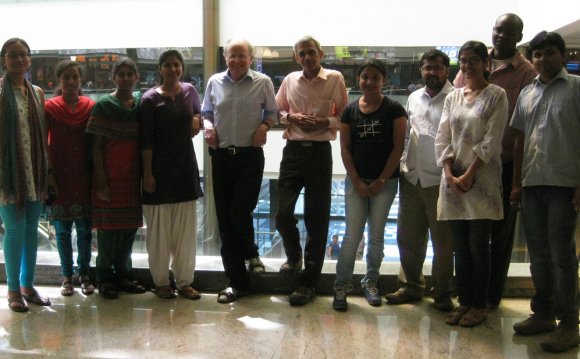 SAN JOSE, CA and BOISE, ID - (Marketwired) - - Cypress Semiconductor Corp. (NASDAQ: CY) today announced that American Semiconductor has chosen Cypress Foundry Solutions to develop and manufacture custom optical devices. In addition, American Semiconductor will transfer a specialized, custom wafer process to the Cypress Foundry Solutions wafer fabrication facility in Bloomington, Minn.
Cypress offers a unique development foundry business model as part of its fast-growing Emerging Technologies Division in which a customer can develop and optimize its process, and then scale up to production volumes, all inside of a high-yield production fab. This stable baseline manufacturing flow is key for American Semiconductor, since some of its work consists of a large format die where yield is very sensitive to the cleanliness of the manufacturing line. In addition, the foundry employs state-of-the-art process controls, such as Advanced Process Control, and Fault Detection and Classification, which provides high die yield and line yield performance.
"We selected Cypress for its long history of innovation and process development in a fab environment that can scale quickly to manufacturing volumes, all in a DMEA Category 1A Trusted Fab that can also serve defense markets, " said
Doug Hackler, CEO of American Semiconductor. "Our advanced, proprietary technology, combined with Cypress's proven, high-volume eight-inch wafer manufacturing expertise, enables us to achieve the high-yield and low-cost requirements of defense markets."
"Having American Semiconductor select Cypress validates our commitment to high-quality, low-cost manufacturing in the U.S., " said
Michael Moore, senior director of Cypress Foundry Services. "American Semiconductor is yet another premier foundry customer for our Minnesota wafer fab, and we expect more companies will join as they see the value and service that Cypress Foundry Solutions offers."
The agreement will leverage Cypress's advanced process technology and transfer expertise along with its Trusted Fab accreditation and quality certifications for TS16949 and ISO14001. American Semiconductor and Cypress expect to have the single-die wafer product and the first of a series of optical devices qualified by late 2014.
About American Semiconductor
American Semiconductor, Inc. is the industry leader in flexible integrated circuits and flexible hybrid systems development as well as a services provider to create flexible ICs. As an on-shore, ITAR compliant, flexible products and services provider, American Semiconductor supports all aspects of flexible design and processing. Services include FleX™ Silicon-on-Polymer™ technology and design engineering including design, verification, layout, and test. Visit us at www.americansemi.com.
About Cypress's Fab 4
Cypress operates its own wafer fabrication facility in Bloomington, Minn., and offers access to this facility as a Specialty Foundry Solutions provider. This eight-inch wafer fab manufactures in high volume down to the 90nm node. It offers process technologies that integrate SONOS-based nonvolatile memory and precision analog/mixed-signal capabilities. The facility can handle ITAR material, and it has been accredited as a Category 1A Trusted Fab for fabrication, design, and testing of U.S. DoD Trusted Microelectronics. More information on Cypress Foundry Solutions is available online at
Follow Cypress Online
About Cypress
Cypress delivers high-performance, mixed-signal, programmable solutions that provide customers with rapid time-to-market and exceptional system value. Cypress offerings include the flagship PSoC® 1, PSoC 3, PSoC 4 and PSoC 5LP programmable system-on-chip families. Cypress is the world leader in capacitive user interface solutions including CapSense touch sensing, TrueTouch touchscreens and trackpad solutions for notebook PCs and peripherals. Cypress is a world leader in USB controllers, which enhance connectivity and performance in a wide range of consumer and industrial products. Cypress is also the world leader in SRAM and nonvolatile RAM memories. Cypress serves numerous major markets, including consumer, mobile handsets, computation, data communications, automotive, industrial and military. Cypress trades on the NASDAQ Global Select Market under the ticker symbol CY.
Visit Cypress online at www.cypress.com.
Cypress, the Cypress logo, TrueTouch, PSoC, and CapSense are registered trademarks of Cypress Semiconductor Corp. All other trademarks are property of their owners.
Source: investors.cypress.com
Share this Post