CEntrance, a leader in professional audio technology, announced today the immediate availability of new low-latency FireWire audio drivers for Windows 2000™ and Windows XP™ platforms. CEntrance developed the driver technology for OXFW970, a FireWire Audio controller from Oxford Semiconductor. The new drivers feature industry-leading audio performance, supporting 44.1, 48, and 96kHz at either 16- or 24-bit resolution.
"Oxford Semiconductor is a leading supplier of FireWire audio controllers. CEntrance is proud to offer our cutting-edge ASIO driver technology for the OXFW970 as part of our strategic relationship with Oxford, " said Michael Goodman, Managing Director of CEntrance. "Our combined FireWire audio solution is easy to integrate into the final product and delivers a high-quality, cost-effective path to market."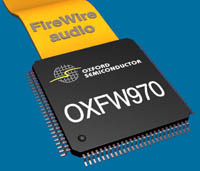 The OXFW970 is now available in production volume from Oxford Semiconductor, which designated CEntrance its third-party solution provider. Product manufacturers are invited to contact CEntrance at (847) 581-0500 with requests for driver differentiation and FireWire audio product development.
CEntrance is a full-service design firm that brings to market differentiated audio and entertainment products. Our holistic, customer-focused approach blends product strategy, design, innovation, and outsourcing coordination. CEntrance helps increase its clients' profitability by consistently delivering products that reinforce business goals and brand identity. CEntrance is headquartered near Chicago with offices in California, Wisconsin, and Russia. For more information, visit or call 847-581-0500.
Oxford Semiconductor designs and manufactures communication bridge ICs and is the world leader in FireWire controller solutions for storage and multimedia markets. A leading exponent of FireWire audio, the company has played a key role in taking pro-quality sound into the consumer mainstream.
Source: www.centrance.com
Share this Post