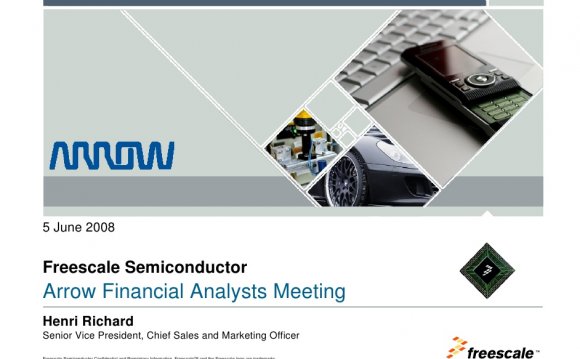 FREESCALE SEMICONDUCTOR (NYSE:FSL)
VICE PRESIDENT, INVESTOR RELATIONS & CORPORATE COMMUNICATIONS
(2/04 to Present)
• Experience spans two initial public offerings, a leveraged buyout, and numerous debt and equity transactions totaling more than $40 billion
• Most recent transaction involves proposed merger with NXP Semiconductors planned for second half of 2015
• Strong executive presence as the lead spokesperson with investors since IPO in 2004, including presenting role at equity and debt conferences and frequent interaction with the company's board of directors
• Significant experience targeting investors and developing productive relationships with both equity and debt analysts
• Prominent role in equity and debt transactions that lead to refinancing more than $6 billion of debt, reducing debt by more than $4 billion and reducing interest by expense by more than $500 million
• Developed company-wide disclosure policy to comply with SEC regulations, including Reg FD
• Led the effort to secure shareholder approval of two different equity compensation plans
• Managed crisis communications during numerous events including flight MH 370 which impacted 20 Freescale employees and the financial crisis in 2008 - 2009
2004 – Present (12 years)
2004 – 2008 (4 years)
2001 – 2004 (3 years)
• Led investor relations and communications during the spin-off of the company's payment processing division
• Increased sell side coverage and broadened shareholder base of the parent company
• Managed corporate communications activities during the renewal of the Fair Credit Reporting Act
• Established monthly guest segment on CNNfn and launched satellite media tour that generated 60 million impressions
MITCH J. HAWS
responsible for all investor relations and corporate communications activities
Strategy * Created comprehensive investor relations program for the second largest technology IPO of 2004
Highlights: * Implemented extensive shareholder targeting program and proactive outreach strategy.
* Function as the primary investor contact; personally conduct brokerage conference and investor presentations throughout U.S. and Europe.
* Lead the effort to initiate all sell side analyst relationships.
* Developed company-wide disclosure policies to comply with SEC regulations, including Reg. FD.
* Established regulatory and trading infrastructure with NYSE.
* Implemented Direct Stock Purchase plan to help retain Motorola retail shareholders who inherited Freescale shares following the spin-off.
* Created employee rotational pool providing investor relations and external communication training for high potential Freescale employees.
Contribution * Doubled sell side analyst coverage base following completion of IPO.
Highlights: * Spearheaded approval of 2005 Omnibus Equity Plan by Freescale shareholders.
* Finalist for Best IR Program for an IPO (Investor Relations Magazine).
* Third party perception studies consistently confirm the strong credibility and effectiveness of Freescale's Investor Relations program.
* Managed investor relations during the company's acquisition by a private equity consortium led by The Blackstone Group.
* Continue to manage direct relations program, managing relationships with the Company's public bond holders.
REYNOLDS & REYNOLDS
Executive Overview: * Provided full strategic and tactical accountability for public
and media relations activity throughout U.S., Canada and Europe.
* Provided executive direction to two international heads of public relations while directly
managing the function in the U.S.
Contribution * Instrumental role in utilizing positive communications and crisis management tactics to sustain
Highlights: a public reputation as one of Fortune Magazine's Most Admired Companies.
* Managed communications during the renewal of the Fair Credit Reporting Act, the key legislation governing Equifax.
* Transformed disparate international organizations into a centralized, globally integrated PR function.
* Established monthly guest segment on CNNfn with Equifax consumer affairs expert.
* Managed satellite and radio media tour and other outreach efforts generating 59 million impressions in 2003.
GENEVA STEEL
DIRECTOR OF INVESTOR RELATIONS &
PUBLIC RELATIONS
Started the company's first investor relations and public relations programs which fully integrated
corporate communications, media and investor relations.
Department * Launched the Investor Relations program to support a successful
Start-up: IPO and debt financing.
* Created integrated program that covered equity and debt investor communities.
Media * Developed all corporate messaging and crisis communications plans
Management: * Secured national media placements including Wall Street Journal,
Forbes, and The Economist.
* Served as primary media spokesperson during multiple labor negotiations.
Contribution * Achieved a statistically significant improvement in public perception of the corporation.
Highlights: * Championed a unique initiative that directly linked company to community-based spending
by infusing the economy with in $2 bills earned through employee bonuses.
* Created aggressive PR and advertising campaigns to raise community awareness and rally
Source: www.linkedin.com
Share this Post