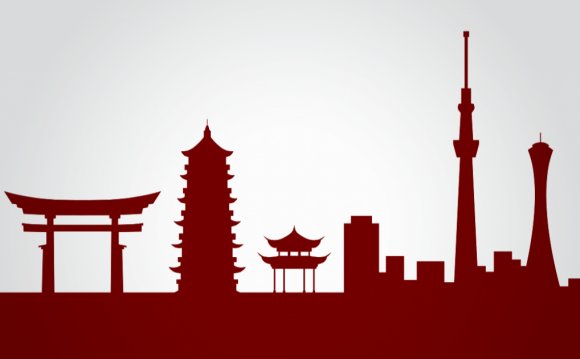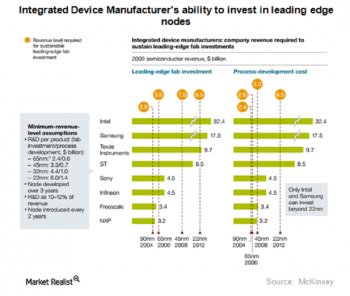 All You Need to Know about the Global Semiconductor Industry (Part 5 of 9)
South Korea leads in memory chip production
In the previous part of this series, we saw that South Korea (EWY) is the second largest semiconductor manufacturer in the world and is a dominant producer of memory chips. Samsung (SSNLF) and SK Hynix together hold a 70% share in the global DRAM (dynamic random access memory) market and 50% of the global NAND (negative-AND) flash market. DRAM and NAND are two forms of memory chips. The two companies are among the top five worldwide semiconductor companies in terms of revenue.
After memory chips, LEDs comprise the second most produced semiconductor products in South Korea. The country accounts for ~13% of the global LED market.
Competition in technology
Samsung is giving tough competition to Intel (INTC) in terms of technology innovation. The above table shows that after Intel, Samsung is the only integrated device manufacturer that has the ability to invest beyond the 22-nanometer (or nm) node.
Samsung has developed 14-nanometer FinFET process technology and the industry's first 3D Vertical NAND flash memory. A nanometer, which is one-billionth of a meter, is a measure used to determine the size of the various elements that constitute a chip. 3D Vertical NAND flash memory chips would double the capacity of existing solid-state drive chips and are 50% more power efficient.
Samsung is moving ahead of Intel and has developed a 7-nm node in partnership with IBM (IBM) and GlobalFoundries. On the memory front, Samsung competes with SanDisk's (SNDK) 3D-NAND Flash technology p-BiCS (pipe-shaped bit cost scalable).
Semiconductor cluster in South Korea
Most of the fabrication facilities are concentrated in the Gyeonggi-do and Chungcheong-do regions, making it easier for the government and companies to focus their investment in particular regions. SK Hynix recently invested $12.6 billion in a manufacturing facility in Gyeonggi and announced plans to invest $38.7 billion in two more factories—one in Gyeonggi and another in Chungcheong—in the coming ten years. Samsung will invest $14.28 billion in its semiconductor complex in Pyeongtaek, Gyeonggi.
With the continuous production of latest technology, South Korean semiconductor firms keep upgrading their manufacturing facilities. This makes the country a good market for SME (semiconductor manufacturing equipment) companies. As domestic SME companies are not well established, the country largely depends on imported SME.
Source: marketrealist.com
Share this Post