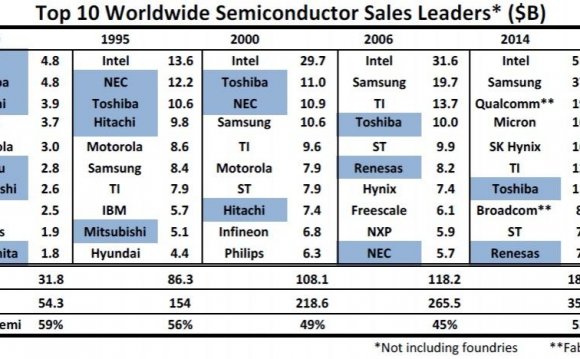 1st Silicone (1Si)

Offices: Kuching-Sarawak, Malaysia & San Jose, California

1st Silicon is one of the global semiconductor industry's premier foundries dedicated to reliable, cost-effective manufacturing processes for high-volume system-on-chip designs and innovative niche markets. 1Si offers manufacturing services for embedded non-volatile and flash memories, high-voltage and mixed-signal technologies, CMOS image sensors and charged-couple devices. These technologies are vital in automobiles, multimedia, displays, Internet-enabled applications, smart cards, and other market applications.
Aeroflex

Offices: Plainview, New York

Aeroflex is a multi-faceted high technology company that designs, develops, manufactures and markets a diverse range of microelectronic, and test and measurement products. Their products are in worldwide use, supporting communication systems, networks and automatic test systems. Aeroflex's highly respected achievements in enabling broadband and wireless communications are based on a broad range of patented and proprietary technologies.
Airoha

Offices: Hsinchu, Taiwan

Airoha was established in August 2001, with initial capital of $6.3 million. With more than 70 employees, Airoha has been a leading wireless communication IC design company. Their vision is to address the high-growth demanding and ever changing requirements of the Wireless Telecommunications industries, Airoha is a fabless semiconductor company that designs, develops and markets RF/mixed signal IC solutions for wireless applications.
Akros Silicon

Offices: Folsom, California

Akros Silicon is a developer of highly integrated and innovative mixed signal and digital processing ICs for converged Ethernet networking and power applications, enables intelligence at the edge of the network in the fast growing Internet appliance arena. A fabless semiconductor company, Akros Silicon focuses on developing highly disruptive and innovative integrated circuits using advanced mixed analog and digital signal processing, digital signal processing and algorithmic techniques.
Akustica

Offices: Pittsburgh, Pennsylvania

Akustica was formed in 2001 when Dr Kaigham Gabriel, widely recognized as the architect of the MEMS industry, and technology start-up veteran James H Rock partnered to commercialize acoustic MEMS technology from Carnegie Mellon University. Akustica holds the exclusive license to these patents and continues to independently develop additional technologies to support the company's mission to create and commercialize a new generation of acoustic system-on-chip solutions.
Alchip Technologies

Offices: Taipei-Hsinchu, Taiwan; Santa Clara, California; Shanghai, China & Kanagawa, Japan

Alchip Technologies is a leading fabless ASIC company that empowers customers with time-to-market advantages. Pioneering SoC technologies, Alchip provides the industry's most advanced ASIC solutions based on a unique SoC design methodology and a seamless turnkey infrastructure to pave the route to rapid product success. Alchip offers end-to-end ASIC solution that spans from design all the way to mass production to help their customers succeed in today's increasingly competitive market.
Alereon

Offices: Austin, Texas; Yokohama, Japan; Kyunggi-do, South Korea & Taipei, Taiwan

Alereon is a fabless semiconductor company, developing innovative Wireless USB and WiMedia ultrawideband wireless chipsets. Their mission is to replace the complex tangle of wires that interconnect today's consumer electronics, computer peripheral, and mobile devices with high-bandwidth, low-power, low-cost wireless links. They want to change the way consumers use electronic devices to connect to the world.
Alien Technology

Offices: Morgan Hill, California; Miamisburg, Ohio; London, England; Fargo, North Dakota & Singapore

Alien Technology provides UHF Radio Frequency Identification (RFID) products and services to customers in retail, consumer goods, manufacturing, defense, transportation and logistics, pharmaceuticals and other industries. Organizations use Alien's RFID products and services to improve the effectiveness, efficiency and security of their supply chains, logistics and asset tracking operations. Alien's products include RFID tags, RFID readers and related training and professional services.
Alliance Semiconductor

Offices: Santa Clara, California; Bangalore-Hyderabad, India

Alliance Semiconductor Corporation is a leading, worldwide provider of high-value memory products designed, developed and marketed for the communications, computing, consumer and industrial markets. Alliance provides leading OEMs with synchronous SRAMs, super low-power and pseudo SRAMs. Alliance leverages its expertise in memory designs, mixed-signal technologies and system solutions to develop leading-edge products for next-generation systems.
AltaSens

Offices: Mountain View, California; Tokyo, Japan & Netania, Israel

Altasens is a newly formed commercial enterprise resulting from the spin-off of Rockwell Scientific's CMOS Image Sensor (RSCIS) Business Group. The company specializes in the development, marketing and sale of its ProCamHD(tm) family of high performance image sensors targeted at a variety of markets, including entertainment, industrial and consumer applications. ProCamHD is the first in a line of sensors that takes advantage of Rockwell Scientific's history of technology leadership in CMOS imager design and production to meet the increasing demand for cost-effective technology solutions.
Amalfi Semiconductor

Offices: Los Gatos, California

Amalfi Semiconductor is a fabless developer of high-performance CMOS RF and mixed-signal semiconductors for the cellular industry. The company was founded in January 2003 by an experienced business and engineering team to solve some of the most challenging problems associated with wireless communications. Winning in the ultra-competitive semiconductor industry is all about the team. Since Amalfi's inception, the company has focused on assembling a world-class group of people to create innovative architectures and breakthrough technologies.
AMCC

Offices: Sunnyvale, California

AMCC provides the essential building blocks for the processing, moving and storing of information worldwide. The company blends systems and software expertise with high-performance, high-bandwidth silicon integration to deliver silicon, hardware and software solutions for global wide area networks (WAN), embedded applications such as PowerPC and programmable SOC architectures, storage area networks (SAN), and high-growth storage markets such as Serial ATA (SATA) RAID.
AnalogicTech As electronic system designers strive to create the next generation of portable products, they face the ongoing challenge of extending battery life, improving reliability, and reducing the size and weight of new designs. AnalogicTech solves these challenges with total power management solutions...
Source: www.boogar.com
Share this Post