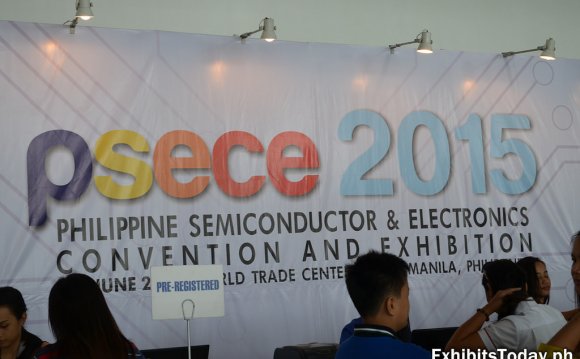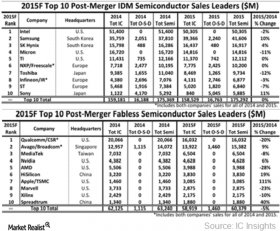 Why 2016 Could Be a Strong Year for Analogs and MCUs (Part 3 of 7)
2016's top three semiconductor companies
In the previous part of the series, we saw that analog ICs (integrated circuits) and MCUs (microcontrollers) are expected to post faster growth than the rest of the semiconductor products in 2016. We will now look at the top three companies that investors should keep an eye on in 2016.
The World Semiconductor Trade Statistics (or WSTS) forecasts semiconductor sales to grow 1.4% YoY in 2016. Amid this slowdown, Avago (AVGO), Intel (INTC), and NXP Semiconductors (NXPI) are the top three companies in terms of 2016 guidance. These three companies have made the biggest semiconductor acquisitions in 2015, and now 2016 is the year when these merger synergies would be realized.
Enlarge Graph
Avago
Avago's acquisition of Broadcom for $36.6 billion was the biggest semiconductor acquisition of 2015. It created a combined company of $77 billion that can give tough competition to Intel and Qualcomm (QCOM). Avago reported sales of $6.9 billion in 2015 while Broadcom is expected to post sales of $8.4 billion in 2015. Avago stock has been trading above $140 since the start of December 2015 when the company reported its fiscal 4Q15 results. The stock is expected to rise as the merger synergies are realized.
Intel
Intel posted a strong 2016 guidance at its investor conference held in November 2015. The company has committed $10 billion in capital spending and expects revenue growth in the mid-single digits in 2016. Its acquisition of Altera for $16.7 billion and new revolutionary 3D XPoint nonvolatile memory technology is expected to post strong growth prospects in the long term. All these factors give Intel's stock a lot of potential.
NXP semiconductors
NXPI acquired Freescale for $11.8 billion to create a combined company worth $40 billion. This is a merger of equals with NXP expected to report revenue of $5.8 billion and Freescale of $4.4 billion in 2015. NXP is looking to tap the IoT sector with this acquisition. The impact of merger synergies is likely to be seen in the stock prices.
Source: marketrealist.com
RELATED VIDEO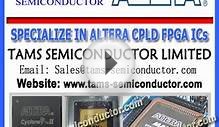 ALTERA--ICSGH-X520--Best Price -- IN STOCK -- TAMS ...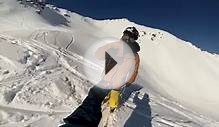 Ambarella - An Up And Coming Small-Cap Semiconductor Stock ...
Share this Post