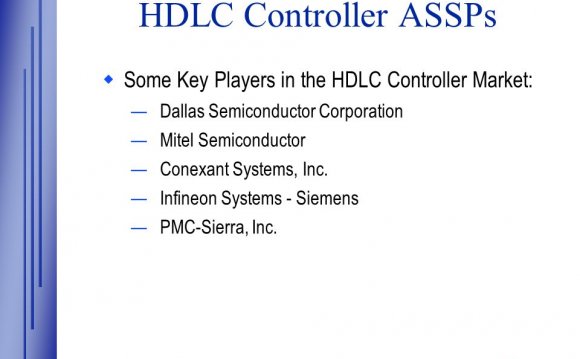 Address:
4401 South Beltwood Parkway
Dallas, Texas
U.S.A.
Telephone: (214) 450-0400
Fax: (214) 450-0958
Statistics:
Public Company
Incorporated: 1984
Employees: 696
Stock Exchanges: New York
Sales: $181.4 million
SICs: 3674 Semiconductors & Related Devices
Company History:
Dallas Semiconductor Corp. designs, manufactures, and markets a wide variety of semiconductors and semiconductor-based subsystems used in computers and other electronic equipment. Its product mix is considered one of the most diversified in the market, with 215 base products and over 1, 000 variations. The company sells its components directly to manufacturers of personal computers, industrial controls, automatic identification devices, telecommunications equipment, and scientific and medical equipment, among others. With over 8, 000 customers worldwide-including Compaq, Digital Equipment, Hewlett Packard, IBM, Matsushita, Motorola, and Samsung-Dallas Semiconductor enjoys one of the more balanced customer mixes in the semiconductor industry. These factors have helped it successfully navigate the volatile semiconductor market, posting over five straight years of record sales. In 1994 sales totaled $181.4 million, with a net income of $29.7 million.
The continued success of Dallas Semiconductor is perhaps the product of a lesson well learned. Dallas Semiconductor was established in 1984 by C. Vincent Prothro (chairman, chief executive officer, and president) and several of his former colleagues from the Mostek Corp. From 1977 to 1982, Prothro had served as president and then chief executive of Mostek, a subsidiary of United Technologies, a company which pioneered the development of random-access memory chips. In 1980, Mostek was an incredibly profitable firm. It was one of the few manufacturers of a random access memory chip, known as a DRAM, that had quickly become a standard component in personal computers and other electronic products. In 1981, Mostek enjoyed 55 percent of the world market and $360 million in sales. The following year, however, shipments increased by 20 percent yet sales plummeted by $160 million to $200 million. One year later, sales were even more dismal.
During the early 1980s, a number of competitors in Asia and the United States had developed less expensive ways of making a chip capable of performing the same function as Mostek's. "With almost no warning, we went from having a wonderful time to being in great jeopardy, " Prothro told Investor's Business Daily in 1993. The semiconductor war was on, and the market became treacherous. One of Mostek's problems was that it hadn't diversified either its product line or its customer base: 70 percent of its sales were of the same product, split between five customers.
In 1983, Prothro left Mostek and with a number of partners formed Southwest Enterprise Associates, a high-technology venture capital fund. The following year, Dallas Semiconductor was established as Prothro and Southwest Enterprise joined forces with Dr. Chao C. Mai and Michael L. Bolan, former Mostek executives, and John W. Smith, Jr., a venture capitalist who assumed the duties of president, chief executive officer, and chief operating officer.
The men recognized the need for a strategy that would prevent the company from relying on a single market, product, customer, or technology. "The semiconductor industry long ago learned to make the same product cheaply, " Bolan told Fortune in 1985. "Our goal is to make unique products cheaply." Its strategy was to address specific client needs, develop a solution, and then later adapt the solution to fit other client needs.
One of the primary ways Dallas Semiconductor sought to do this was to allow clients to customize chips at a very late stage in the production process. Known as "late definition technology" the process used ion implants, lasers, or embedded lithium to etch chips according to precise customer specifications. This process gave Dallas Semiconductor a great deal of flexibility in adapting to changes in the marketplace and also provided the foundation for the company's versatile product mix. "All the major developments in the industry have been decided by the marketplace, not by planning, " Bolan said in 1985, adding that "Our cardinal promise is not to fall in love with any one product."
Another innovation was a product whose origins could be traced to Mostek: the pairing of lithium batteries-a small, long-lasting battery found in wristwatches-with a random access memory chip called a complementary metal oxide semiconductor or CMOS. CMOS were used to power individual software programs and were popular because data could be added to or erased from them at will. Their main drawback, however, was that whenever the power supply was cut from the chip, all stored data was erased from the chip's memory. With this new product, known as non-volatile RAM, the lithium battery would continue to supply power when electricity failed, allowing the chip to be powered continuously for over ten years. The development was essential for life-saving medical equipment and even for more prosaic uses such as cash registers or banking systems that keep running totals of deposits and other transactions.
By March 1995, Dallas Semiconductor had regional sales offices in Philadelphia, Indianapolis, and Phoenix, and had begun filling orders for a series of non-volatile RAM it had developed based on the above lithium battery technology. The company also introduced a line of electronic chips to prevent software theft based on the same technology. The product consisted of a key containing an integrated circuit coupled with a lithium battery and a corresponding socket inserted into the computer. Software manufacturers could encode the key's circuit to match a code in the software package, and only when the user inserted the key in the socket could he or she use the program. Although theft was one of the primary concerns of software manufacturers, this product was not as successful as the non-volatile RAM, most likely because end-use software buyers were reluctant to purchase and install the socket.
In its first year of operation, Dallas Semiconductor posted sales of approximately $3 million, slightly below its projected figure of $3.5 million. In 1986, the company received $10.8 million in a second round of capitalization, a move which increased its total capitalization to $32.2 million. Construction continued on the company's fabrication plant, which had already grown to 65, 000 square feet. By late 1986, the company had introduced a line of application-specific telecommunications products, primarily T1 circuits capable of supporting a high volume of voice and data transmission.
In 1987, the three-year old Dallas Semiconductor went public on the New York Stock Exchange at $9 per share. The initial public offering brought in an estimated $30 million which was funneled into research and development. This led to the creation of "one-conductor semiconductor technology" which, when coupled with the company's other technologies, formed the basis of Dallas Semiconductor's automatic identification systems and Touch Memory chips. In 1987 the company also introduced a line of highly successful computer clocks, a simple self-powered component added to computers which could keep time for ten years, regardless of whether the machine was turned on. One version was even capable of "waking a computer up" to perform a specific task and then shutting it down after the task was completed. Dallas Semiconductor quickly became the market leader in computer clocks, a position it continued to hold in the mid-1990s.
Source: www.company-histories.com
RELATED VIDEO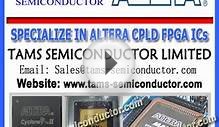 ALTERA--ICSGH-X520--Best Price -- IN STOCK -- TAMS ...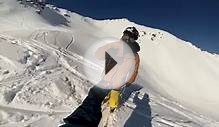 Ambarella - An Up And Coming Small-Cap Semiconductor Stock ...
Share this Post