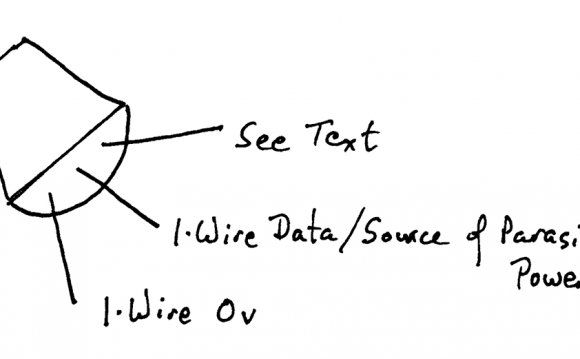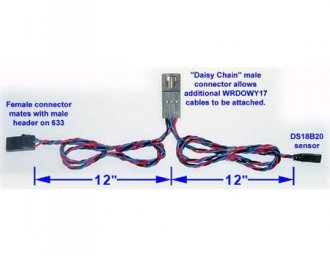 The WRDOWY17 is a temperature sensor featuring the Dallas Semiconductor / Maxim DS18B20. The WRDOWY17 takes advantage of the DS18B20's ability to connect multiple sensors to one cable. Each WRDOWY17 cable has a female connector that will plug into the CFA-633's DOW header, or the expansion connector of an additional WRDOWY17. The cable also has a male expansion header midway along its length. This arrangement allows connection of up to the 32 sensors (the maximum number supported by the 633) to be connected in a chain.
This image is a close-up of the DS18B20 sensor. The DS18B20 boasts 0.5 degree C absolute accuracy and 0.0625 degree C resolution. The WRDOWY17's cross section is the same as the DS18B20, allowing the sensor to be installed in space constrained locations. The DS18B20 is identical to the DS1822 sensor with better accuracy, so the WRDOWY17 may be used to replace the DS1822, depending on the application.
Here is a detail shot of the WRDOWY17's female end, which connects to the CFA-633's DOW header. This connector was specifically chosen because it is latching, polarized and it is not easily confused with other connectors used on a typical PC.
Midway along the WRDOWY17's length, there is an male connector. The male connector allows additional WRDOWY17's to be connected (up to the maximum of 32 sensors supported by the CFA-633.
Source: www.crystalfontz.com
RELATED VIDEO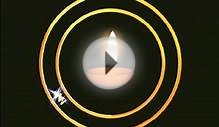 Lecture4-Temary Compound Semiconductor and their Application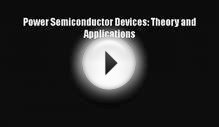 Download Power Semiconductor Devices: Theory and ...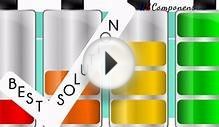 Power Semiconductor Devices for UPS Technology Systems ...
Share this Post