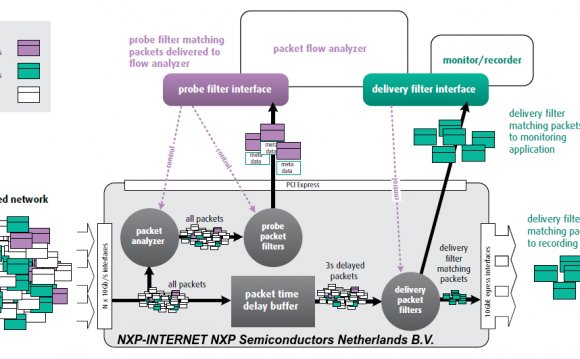 Late Wednesday night, Netherlands-based semiconductor maker NXP Semiconductors released a fresh fourth-quarter report. As of Thursday afternoon, investors had taken the report to heart and raised NXP share prices by 5%. As strong as the next-day surge was, NXP still trades more than 11% lower year to date, and the stock has fallen 22% over the last six months.
Let's have a closer look at that fourth-quarter report.
NXP results: The raw numbers
Q4 2015 Actuals

Q4 2014 Actuals

Growth (YOY)

Revenue

$1, 606 million

$1, 537 million

4.5%

Net Income

$972 million

$149 million

552%

GAAP EPS

$3.56

$0.61

484%

Adjusted Net Income

$341 million

$327 million

4.3%

Adjusted EPS

$1.25

$1.35

(7.4%)
Data source: Yahoo! Finance.
What happened with NXP this quarter?
The company closed its merger with Freescale Semiconductor on Dec. 7, and the unadjusted results include Freescale's contributions during the last month of NXP's fourth quarter.
The adjusted figures do their best to remove merger-related costs and boosts from the equation, and are probably your best bet for putting this quarter in a historical context right now.
The company also generated $180 million of free cash flow, or 11% of revenues. That's down from $556 million and a 29% cash flow margin in the year-ago quarter. The addition of Freescale's assets and liabilities overhauled NXP's balance sheet in a big way, which also plays into the cash flow calculations. For example, NXP nearly tripled its property, plant, and equipment assets overnight while also doubling its long-term debt to $8.7 billion.
From this point forward, NXP's guidance figures will account for the acquired Freescale operations. With the merger out of the way, management is now back to offering a full slate of guidance targets.
In the first quarter of 2016, total sales should land near $2.2 billion. I won't try to compare this to year-ago figures, because the Freescale deal turned those numbers upside-down.
Adjusted gross margins are seen staying close to 49%-50%, where they have been hanging around in the last few quarters. Non-GAAP operating margins, which stopped at 27% in the fourth quarter, should slide back to roughly 23%.
On the bottom line, adjusted earnings should fall approximately 20% year over year, landing near $1.10 per share.
What management had to say
"NXP is now the clear market leader in automotive, microcontroller and security semiconductor solutions, " said CEO Richard Clemmer in a press statement. That's a bold statement, made possible by the Freescale deal.
Clemmer thinks that the merger has set his company up for success in the coming years:
We believe NXP is ideally positioned in the right markets, with the right customers and highly competitive portfolio of solutions.
We believe the merger will result in significant value creation both in terms of giving us an even more competitive cost structure as well broadening the product portfolio we can offer our customers.
Looking ahead
If the first-quarter guidance is anything to go by, NXP is now on track for roughly $8.5 billion in annual sales at a 23% operating margin.
In other words, the Freescale combination helped NXP leapfrog over STMicroelectronics' annual revenues without sacrificing NXP's much stronger margins. The company still has a ways to go before catching up to Texas Instruments in either of those departments, but NXP's focus on automotive and information security products could put these sector rivals shoulder to shoulder (and often head-to-head) in the coming quarters and years.
The next billion-dollar iSecret
The world's biggest tech company forgot to show you something at its recent event, but a few Wall Street analysts and the Fool didn't miss a beat: There's a small company that's powering their brand-new gadgets and the coming revolution in technology. And we think its stock price has nearly unlimited room to run for early in-the-know investors! To be one of them, just click here.
Source: www.fool.com
Share this Post