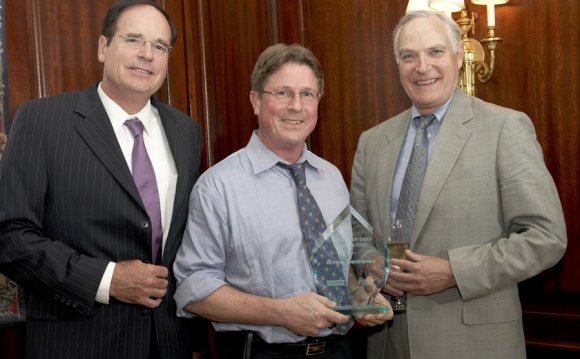 SOUTH PORTLAND, Maine — Fairchild Semiconductor has returned to its storied Silicon Valley roots, recently switching its official "headquarters" to San Jose, Calif., from South Portland.
In a move he described as mainly branding for the computer chip maker, Kevin London, executive vice president for human resources, said the change won't impact the employees here or the sort of work they do.
"There's some general agreement that our image would be enhanced as being seen as a Silicon Valley-based technology company — along with the likes of Intel, " said London. "Silicon Valley is sort of the capital of technology of the world. Companies that are headquartered there have a certain cachet."
Fairchild has more than 9, 000 employees in 27 locations globally. There are 800 in Maine, working at its fabrication facility and its corporate offices, both in South Portland. The company is registered in Delaware, and in January it filed papers in that state and with the Securities and Exchange Commission pegging San Jose as the official headquarters.
Functionally, said London, Fairchild has three corporate locations, in San Jose, South Portland and Singapore. And there are top-level executives at all those locations, he said. The company's executive vice president for sales and vice president for Asia are based in Singapore. London is based in South Portland, as is an executive vice president of a product line, executive VP of operations, senior VP of information technology and senior VP of legal. And the company's CEO and chief financial officer are in San Jose, as are the head of another product line and the head of quality assurance.
In the case of the CEO, Mark Thompson, he only lived here for about nine months before moving back to California. The CFO never had a home here, said London.
"We have good executive balance around the world, " said London. "We're a very global company."
London said the company believes the change will better allow Fairchild to attract top talent. There are hundreds of thousands of tech workers in Silicon Valley, he said.
"If you're in Maine and you're in the semiconductor business, you have Fairchild and you have National Semiconductor. The available pool is a lot smaller, " he said.
And while Maine is beautiful, it does have long winters, which can be a negative factor for potential employees and their spouses from the West considering a career move.
Fairchild has shifted its business model in the last decade, moving from commodity chips to more specialized semiconductors that manage power usage in everything from smartphones to refrigerators to automobiles. Where their customers were once dealing with six or seven companies that could make the products Fairchild does, the company's specialization has meant that often Fairchild is the only provider of certain chips.
So it's more important to have top executives in proximity — or at least perceived proximity — to those customers, as well as the Asian market, London said.
And while Fairchild's move speaks to the cache of Silicon Valley, London said he didn't think it spoke in a negative way to Maine.
"In my view it has no impact — neither good nor bad — it just reflects who Fairchild is and what we've always been doing, " said London, who grew up in Maine and is a University of Maine graduate. "Without being critical in any way, Maine is a small state, it's stuck away up in the Northeast. Maine is a beautiful state, but it isn't known for its technology."
In fact, said London, Fairchild is upgrading its South Portland facility, going from 6-inch wafer lines to 8-inch lines.
But Matt Jacobson, head of Maine & Co., a private nonprofit that works to attract business to Maine, said Fairchild's decision isn't good for Maine. The loss of "corporate headquarters" status is a trend seen for years in other areas, from banks to paper mills, he noted. When that happens, you have less top management involved in local groups like the Rotary or Kiwanis, he said, and less sponsorship of community events, like charity runs or summer festivals.
"When we lose that corporate headquarters function, there's necessarily a drop-off in that involvement, " said Jacobson.
Another loss is the pipeline of advancement. When young people go to work for a company with headquarters here, there was more management training with positions available up the chain. Now, he said, when you get to a certain level, you have to move.
"I think it's something we need to focus on, " said Jacobson. "I'd love to see us make some sort of attempt to attract headquarters back here. I think it's so crucial to the fabric of our state."
Indeed, in its distant past, Fairchild has had a lasting and continuing impact on the state's philanthropic community.
Fairchild was one of the original Silicon Valley companies, formed when eight engineers (the so-called "traitorous eight") left Shockley Semiconductor Laboratory to found Fairchild in 1957. The eight included luminaries in the computer chip world, including Gordon Moore and Robert Noyce — the two men who would later founded Intel. Noyce was a co-inventor of the integrated circuit.
Fairchild opened the South Portland plant in 1962; six years later, Noyce left Fairchild to found Intel.
When Noyce and his wife, Elizabeth Noyce, divorced, she got a fortune in Intel stock and the Maine estate, and Maine became her home. In 1989, she started the Libra Foundation, which has supported a variety of causes through Maine through a multi-hundred-million-dollar endowment — ranging from the Maine Winter Sports Center to programs to send city kids to summer camps.
Source: bangordailynews.com
Share this Post