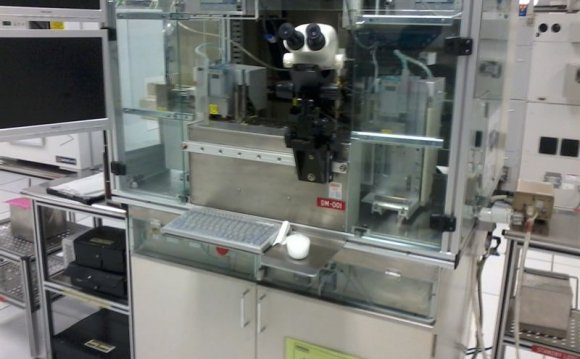 As a semiconductor equipment or materials supplier, the cornerstone to a successful marketing plan is a well-crafted a mission statement that clearly articulates your strategic goals. A mission statement is the glue that provides an anchor for your customers and staff through an industry known for a rapidly evolving product development, life cycles, and enhancements. It should effectively tell how you as chip maker add tremendous value to your customers' products.
No. 8 Li-Hsin Road 6, Hsinchu Science Park Hsinchu, 300. Taiwan
TSMC Limited was formed in 1987 and has its headquarters located in Hsinchu Science and Industrial Park, Taiwan. The company is regarded world's largest (pure-play) semiconductor foundry, they globally market through a network of manufacturing facilities and offices as well as offers a wide range of technologies and services in the Dedicated IC Foundry segment of the semiconductor manufacturing industry.
Our mission is to be the trusted technology and capacity provider of the global logic IC industry for years to come.
One Technology Way Norwood, MA
World Leader in High Perfromance Signal Processing
Analog Devices, Inc. Headquartered in Norwood, Massachusetts, United States was founded in 1965. This multinational semiconductor company offers data conversion and signal conditioning technology with operations worldwide.
To be the world's best signal processing company
26, Chin 3rd Rd., N. E. P. Z., Kaohsiung City, Taiwan
ASE Inc. was founded in 1984 and holds its headquarters in Kaohsiung, Taiwan. The company is considered as the world's leading providers of semiconductor manufacturing services, they also offer a broad range of advanced IC packaging.
We offer the best design manufacturing services for IC packaging, IC substrates, IC testing and systems. ASE will act as an extension of our customers' own operations in achieving the maximum business objectives with minimum resources.
39, chemin du Champ des Filles Plan-Les-Ouates Geneva, 1228. Switzerland
Life. Augmented
STMicroelectronics, headquartered in Geneva, Switzerland was established in 1957. This multinational electronics and semiconductor company manufactures and provide a full range of segments, including semiconductors for industrial applications, inkjet print heads, MEMS (Micro-Electro-Mechanical Systems), MPEG decoders and smartcard chips, automotive integrated circuits, computer peripherals, and chips for wireless and mobile applications.
To offer strategic independence to our partners worldwide as a profitable and viable broad-range semiconductor supplier
One AMD Place. P.O. Box 3453. Sunnyvale, CA
Enabling today. Inspiring tomorrow.
AMD Inc. was founded in 1969 and its headquarters is located in Sunnyvale, California, United States. This multinational semiconductor company produces computer processors and technologies associated with business and consumer markets, their products include microprocessors, motherboard chipsets, embedded processors and graphics processors for servers, workstations & personal computers and embedded systems applications.
Becoming the leading designer and integrator of innovative, tailored technology solutions that empower people to push the boundaries of what is possible.
Shin Marunouchi Center Bldg., 1-6-2, Marunouchi, Chiyoda-ku, Tokyo 100-0005
Where ideas and technology meet. The future is new again.
Advantest Corporation was formed in 1954 and holds its headquarters in Chiyoda, Tokyo, Japan. The company is a developer of automatic test equipment (ATE) for the semiconductor industry as well as manufactures measuring instruments used in the design, production and maintenance of electronic systems. Their products and services include IC Test systems, E-Beam Lithography, SSD Test systems, Electronic Measuring Instruments etc.
Technology Support on the Leading Edge
101 N Sepulveda Blvd. El Segundo, CA 90245
International Rectifier was established in 1947 and has its headquarters located in El Segundo, California United States. This power management technology company develops analog and mixed-signal ICs, advanced circuit equipment's, integrated power systems, and integrated components. They offer a wide range of products under the category of Power MOSFETs, Gate Driver ICs and Controllers, IGBTs, Motor Control Solutions, DC-DC Converters, Automotive Products, HiRel Products and more.
Help our customers save energy
No 18 Zhangjiang Road, Pudong New Area Shanghai 201203 China
The Foundry for Your Vision.
SMIC was formed in year 2000 and its headquarters is located in Shanghai, china. This semiconductor foundry company provides integrated circuit (IC) manufacturing services on 350 nm to 40 nm process technologies. The company collaborates with some other countries as well and has several locations/ offices in the United States, Italy, Japan, and Taiwan, and a representative office in Hong Kong.
Strengthen SMIC's global competitiveness
Develop China's semiconductor industry
Accept and overcome challenges
Establish a legacy of environmental and social responsibility
No.1, Ke Ji Si Road, Hi-Tech Zone, Zhuhai, Guangdong, China
Enrich your future. Take actions!
Actions Semiconductor Co., Ltd. is a semi conductor company that makes portable consumer electronics into entertainment centres
Our mission is to relentlessly strive to provide IC Solutions to meet the ever changing demands of Smart Entertainment
AOS Headquarters / Sales Office 475 Oakmead Pkwy Sunnyvale, CA 94085
Powering a Greener Future
Alpha and Omega Semiconductor Limited is a semiconductor manufacturing company that focuses on environmentally friendly products.
Our mission is to bring value to our customers, shareholders and employees.
Altera Corporation 101 Innovation Drive San Jose, CA 95134
Measurable Advantage
Altera Corporation is a semiconductor manufacturing and supplier company.
Altera&#146s corporate mission is to be the preferred fabless supplier of FPGAs, SoCs with embedded processor systems, CPLDs, ASICs and PowerSoCs in combination with software tools, intellectual property, embedded processors and customer support, in order to provide high-value programmable solutions
1900 South Price Road Chandler, AZ 85286 USA
Amkor Technology, Inc. is a company that provides outsourced semiconductor packaging as well as testing services around the world. Some of the packaging and test serviced it offers includes semiconductor wafer probes, wafer bumps, wafer backgrinds, test and drop shipment services, packaging and package design. This company provides services primarily to fabless semiconductor companies, contract foundries, integrated device manufacturers, as well as automotive and industrial markets. It was founded in 1968.
The mission of Amkor Technology is to be the trusted global provider of reliable assembly and test manufacturing services and innovative solutions to semiconductor and microelectronics companies using advanced technology developed through close collaboration with our customers and other supply chain partners
Applied Materials, Inc. is aimed to provide manufacturing products, services and software to the worldwide semiconductor, solar photovoltaic (PV), flat panel display and other related industries.
Our mission is to invest in companies that provide a window on technologies that will push the semiconductor, display, solar PV, and related industries beyond the cutting edge.
Source: www.missionstatements.com
Share this Post